Common wisdom says there are only two constant in life: taxes and death. If LGBTQ news reports are any indicator, however, another certainty could be added.
The more anti-gay a conservative is, the higher the chance they're trying to cover up their own sexual "sin." From stealing church money to buying expensive presents for men to being photographed stuffing dollars down a stripper's g-string, these people had it coming.
Related: Trump's former pastor is slamming him on Twitter as a liar & hypocrite
No matter what they were trying to hide, the truth always comes out – even if they wouldn't. Here are the most shared posts of 2019 that will give you all the schadenfreude you can possibly handle.
Joseph McLoone, 56, used the stolen funds to pay for expensive dinners, travel expenses, a beach house, and a Grindr XTRA account. He admitted to using the money for "personal relationships" with other men.
He took over at St. Joseph's in 2011 when the previous pastor was accused of concealing child sex abuse in the church.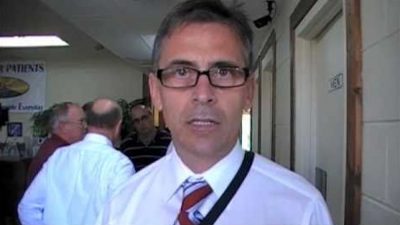 59-year-old Tennessee State Rep. Bill Sanderson (R) reportedly hit on men 40 years younger than him despite being married to a woman and repeatedly voting for anti-LGBTQ legislation.
He called himself "Brian" and described himself as being in an "open relationship." He wasn't.
Mike Folmer, a powerful Republican committee chair in the Pennsylvania state legislature, blocked passage of LGBTQ rights legislation for years.
A married father and grandfather, he uploaded a pornographic image to Tumblr that was caught by the site's security measures. The site contacted the authorities who identified the disgraced politician as the person responsible. Other images were found on his phone when he was arrested.
Folmer told authorities he was having "some personal problems" when he was arrested.
Schock, who made a splash in the nation's capital with his clothing choices, Instagram photos, and interior decorating, resigned after being accused of illegally using campaign funds to finance his over-the-top lifestyle.
Schock was a reliably anti-gay vote for Republicans despite the parade of young men who visited his D.C. apartment and his outing by journalist Itay Hod in 2014. Hod claimed he had walked in on his male roommate and Schock showering together.
But the former Congressman is back on social media after moving to West Hollywood where's he's been spotted doing some of the most stereotypical gay things possible – hanging out in gay bars, posing shirtless with gay fitness junkies, and making out with a man at Coachella. Don't forget to add shoving his hand down a Mexican stripper's underwear to that list.
He still hasn't come out.
A Trump supporter's ignorant comment about a gay bar resulted in a hilarious meme and a rainbow-colored pin immortalizing her cluelessness. It's a gay bar, Pamela.