Over the decades, countless straight couples continue to court, dance, even make love to the songs of Hoosier Cole Porter without knowing he was gay. But, perhaps, eclipsing Porter and every other secretly gay artist in seducing the world has been fellow Hoosier Robert Indiana's totemic L O V E creations.
Straightwashed even unto death, few of the multiple notices of the passing in 2018 of the Army Air Corps veteran acknowledged that his L O V E was for men, a fact readily available to any reporter caring to look – and one that should have already been specifically known by those writing about his death for myriad art sites.
Born Robert Clark in New Castle, Indiana, in 1928, he chose "Robert Indiana" as his "nom de brush" after moving to New York in 1954.
Get the Daily Brief

The news you care about, reported on by the people who care about you:
Related: Meet the gay lovers who became Christian martyrs
As explained by Bradford R. Collins in Pop Art, the image had two inspirations. One, a 1964 commission by art collector Larry Aldrich who was turning an abandoned Christian Science church into a museum.
In a letter to Aldrich, he wrote, "The LOVE paintings sprang like a crop from that seed planted at your museum, Larry, and the painting you commissioned, Love is God, which burst into mind when I learned that you were converting an old Christian Science Church in Ridgefield . . . for I, as a child, was raised as a Christian Scientist, and the word LOVE was indelibly imprinted in the mind, for there is that slightly different phrase, 'God is Love', on every front wall of every one of Mary Baker Eddy's houses throughout the world."
The second inspiration dates to 1956 when abstract artist Ellsworth Kelly walked into the Utrecht Art Supply store on West 57th Street in New York City where Indiana was working for $20 a week and asked for a specific postcard by Matisse. Soon they were a couple, and Indiana later said that his "painting life began with Ellsworth . . . before [him] I was aesthetically at sea. With Ellsworth, my whole life perspective changed. All of a sudden, I was in the twentieth century."
But, apparently, after their relationship began to unravel, he first displayed his unique L O V E letters in a series of poems, hidden in plain sight, and ultimately employed the precise shades of blue and green that Kelly used in some of his works (while, as an abstractionist, hating the inclusion of words).
Collins: "On the purely private plane works in the series are bittersweet love poems expressing Indiana's carnal love for Ellsworth Kelly." [Art historian Susan Ryan asserts that he first used the stacked and tilted letter concept with the word F U C K.]
He began to spring to worldwide fame in 1965 with his L O V E illustration for a Christmas card for New York's Museum of Modern Art (MOMA) in which the green and blue spaces from the poem design were inverted while maintaining the letters in red. Original individual cards sell today for thousands of dollars. The museum commissioned the design after seeing his personal handmade 1964 Christmas card featuring a pencil rubbing of the word.
While the story that an Indiana exhibit inspired John Lennon to write "All You Need Is Love" may or may not be apocryphal, I should have to tell no one reading this that it's been replicated in virtually every form and material possible around the world including 18kt. gold, sneakers, and, in 1973, 330 million 8 cent US postage stamps.
They alone generated $25+ million in sales (but only a flat $1000 fee for Indiana), and inspired a continuing series of other stamps with artistic renderings of the word.
The H O P E image Indiana donated to the 2008 Barack Obama campaign for President generated over $1 million.
Having failed to properly copyright his image (he didn't want to interfere with the design with his signature), whatever his income over his lifetime it can't have matched that collectively of those who freely marketed reproductions of his image, or resold originals. It's been called the most plagiarized of all images in art; a practice that began almost immediately after the MOMA Christmas card appeared.
The first L O V E sculptures he created were 12 inches high and carved out of a solid block of aluminum, highly unpolished, for a show at New York's Stable Gallery in 1966.
The artist himself created the first monumental L O V E sculpture, 12-ft. high and weighing three tons, in 1970. Made of Cor-ten steel, after installations in various other places it became a part of the permanent collection of the Indianapolis Museum of Art in 1975. The museum also owns a nearly 6 ft. x 6 ft. oil L O V E painting he did in the same color combination as the original MOMA Christmas card.
Privately owned big L O V E sculptures sold for over $3 million and over $4 million in 2007 and 2011 respectively.
In 1977, Indiana created a version in Hebrew – אהבה – for the Israel Museum in Jerusalem.
Though he once exhibited with Andy Warhol, and was featured in one of Warhol's early films doing nothing but eating a mushroom and playing with a cat for some 40 minutes, Indiana was turned off by the excesses that swirled around the scene.
His H O P E creation for the Obama campaign wasn't his first foray into political commentary. In the 1960s, his oil on canvas "Confederacy" series focused on "our least yielding region entrenched as it is in the doctrine of White Supremacy" with the text: "JUST AS IN THE ANATOMY OF MAN EVERY NATION MUST HAVE ITS HIND PART."
The one of Alabama starred Selma where state troopers and county police viciously attacked unarmed, mostly Black voting rights marchers with billy clubs and tear gas on "Bloody Sunday" 1965. The night of the second march, White Unitarian minister James Reeb, who'd come from Boston to join the protests, was beaten to death.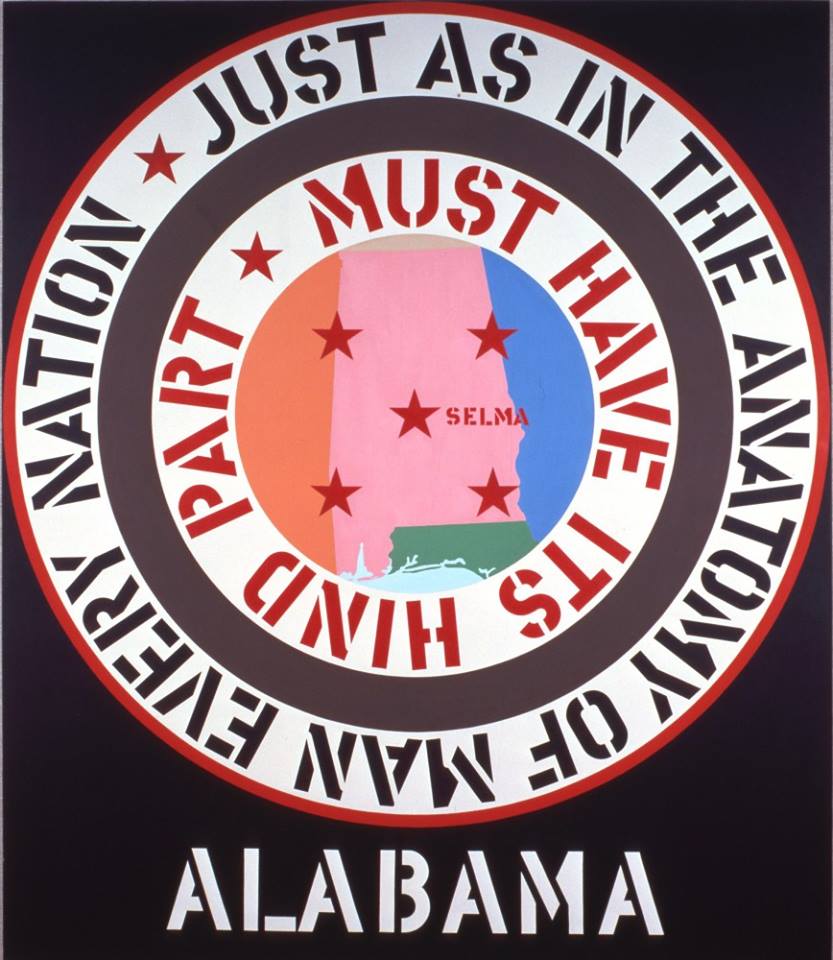 While late gay rights pioneer Barbara Gittings might not have known Indiana was gay when she posed for this photo by her life partner Kay Tobin Lahusen in Philadelphia, she told the crowd at the 1973 New York Pride march rally that, "Those of us who are out are oiling the closet door hinges just as fast as we can," and led them in chanting: "Gay is good! Gay is proud! Gay is natural! Gay is normal! Gay is gorgeous! Gay is positive! Gay is healthy! Gay is happy! Gay is LOVE!"