Atlanta attorney Lawrie Demorest has devoted tremendous energy and earnings to the fight for LGBTQ equality, but in response to an atypical divorce action brought by her lesbian partner, the former co-chair of the board of directors for the Human Rights Campaign has tried to legally nullify a relationship she once said should be treated the same as a marriage.
In some ways, Demorest is arguing against her younger self in a case that involves an expired marriage statute, the reach of Obergerfell v. Hodges and whether a national leader on LGBTQ rights abandoned the spirit of marriage equality in her personal life.
Demorest currently serves on Atlanta's Human Relations Commission, where residents can launch complaints against businesses that violate the city's non-discrimination ordinance. Fifteen years ago, Demorest stood before that same panel as a resident and plaintiff, asking the city to sanction a prestigious golf club for refusing her and her longtime partner, Lee Kyser, the same benefits it offered to married heterosexuals.
Get the Daily Brief

The news you care about, reported on by the people who care about you:
The Wedding Ceremony That Wasn't?
However, now that her 20-year relationship with Kyser has ended, Demorest has argued in court filings that their extended union was never a marriage, was never intended to be a marriage, and that Demorest, a former partner at one of Atlanta's most prestigious law firms and a national leader for LGBTQ rights, "did not anticipate or have any expectation that marriage would ever become available to same-sex couples in Georgia."
Nevermind when the couple entered its name into the city of Atlanta's domestic partnership registry in January 1998; or, when hundreds of their friends and family arrived at the opulent Atlanta Botanical Garden a few months later and were handed a program welcoming them to "The Wedding Ceremony of Lawrie Demorest and Lee Kyser" (a program that included two pages entitled, "A Wedding Message," which informed attendees about the more than 1,000 rights and responsibilities of marriage that were denied to same-sex couples).
Related: Legalizing marriage equality improved people's mental health, according to science
Forget about the nationally covered legal fight the couple waged against the Druid Hills Golf Club in 2004, when Demorest represented the couple before the Human Relations panel on which she now sits. Speaking to the magazine Golf for Women in 2005, Demorest explained how her LGBTQ activism made her not want to join the discriminatory club, but she did so because it was important to Kyser, and "when you are married, you make some hard compromises."
Yet, in an affidavit Demorest filed as part of her attempt to dismiss a Complaint for Divorce filed by Kyser in DeKalb County, Georgia, Demorest said she didn't have "any inkling" that Kyser would one day pretend their relationship had been a marriage.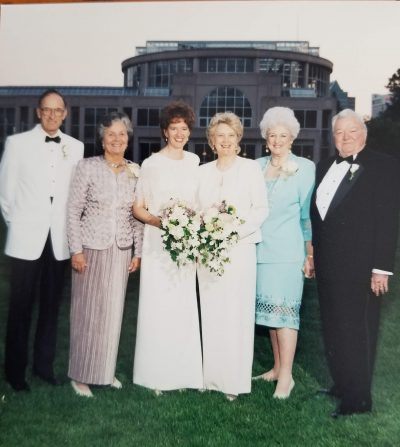 The Ever-Changing Definition of Marriage Equality
"I just can't get over her blindness," Kyser told LGBTQ Nation. "How did she get to [a place] where she really talked herself into believing that she can advocate for equality and have this tremendous reputation, and then turn around and try to exit our relationship in this way, which is totally contradictory to fairness and equity. To have built up such a reputation professionally and politically, and to then turn and handle her own relationship and family like this just tears it down."
Demorest, who also served as co-chair of the board for the Human Rights Campaign Foundation and is a member of HRC's Emeritus Counsil, declined to comment for this story. She  referred questions to her attorney, Lynn Russell, who pointed out the rub in Kyser's divorce filing: the couple never married, even though same-sex matrimony became legal less than halfway into their 20-year partnership.
"They had the opportunity to get married in 2004, 5, 6, 7, 8, 9, 10, 11, 12, 13, 14 and 15 and they did not," Russell told LGBTQ Nation. "In '15 [when Obergefell legalized same-sex marriage nationwide], they could've marched over to the probate court in DeKalb County like a thousand other people did and get a marriage license, but they chose not to do that.
"It's a very murky thing to dive into and talk about the spirit of the relationship because each relationship has its own milieu," Russell added. "You might look at it from the high level … but it really doesn't tell anything about the relationship itself and what the people thought and what their intent was."
Kyser, who is a retired psychologist and an avid poker player, is hoping a pair of legal wildcards will give her a winning hand in what seemed to be a long-odds court battle. In her complaint, Kyser evoked both the Obergefell ruling and common law marriage, which was abolished in Georgia in 1997. Her attorneys have argued these combined principles retroactively date the start of Kyser and Demorest's marriage to July 1996, when Kyser moved into Demorest's home.
"[Kyser] shows that, but for the unconstitutional prohibition on same-sex marriage, the parties would have been married by common law in July 1996," Kyser's attorney, Rachel Snider, wrote in the initial divorce pleading, which was filed in February 2018.
How Do You Deny 20 Years Together As a Surprise?
In a motion to outright dismiss Kyser's standing to file a divorce, Demorest said the couple began cohabitating because Kyser wanted to rent out her home while the summer Olympics were in Atlanta.
"When I agreed for Lee to move in with me in 1996, I never considered whether this would impose any long term legal obligations on me … because they were not available to us as a same-sex couple," Demorest said in a sworn affidavit. "I never knowingly took on such legal responsibilities and never expected any legal implications to arise from our dating relationship or our agreement to live together."
However, over the next two decades, Demorest and Kyser co-mingled their finances, brought property together, agreed that Kyser would scale back her psycholgical practice in order to raise the infant twins the couple adopted, and fought on behalf of same-sex couples, including jointly giving more than $175,000 to HRC.
When Demorest told Kyser she was leaving the relationship in December 2017, Kyser said her ex-partner proposed they each walk away with what was titled in their own names, despite having agreed decades earlier that Demorest would be the family's breadwinner. Kyser's only source of income at the time was social security, and she accused Demorest of setting her up for "an undignified retirement."
On September 4, DeKalb County Superior Court Judge Mark Anthony Scott denied Demorest's Motion for Summary Judgment, which allows Kyser to further argue her claim that the couple should be considered common-law married due to the Obergefell ruling.
"Retroactive application of Obergefell to common law marriage is consistent with the U.S. Supreme Court's application of retroactivity to common law and ceremonial marriage with regard to interracial couples following the decision in Loving v. Virginia," Scott wrote.
"Post-Loving cases explicitly applied the ruling of Loving to interracial common law marriages, retroactively backdating those marriages to the date the interracial couples would have been married, but-for the unconstitutional prohibition on interracial marriages."
Was It a Domestic Partnership or a Common Law Marriage?
Scott's ruling simply clears the way for the parties to argue whether Kyser and Demorest intended to establish a common law marriage during the brief window of July 1996, when they began living together, until January 1997, when Georgia's common law marriage statute expired.
Despite Scott noting, "This Court, nor any other Court of this State, has had occasion to address the issue of retroactive application of Obergefell to a same-sex common law marriage," Demorest's attorney downplayed the significance of his ruling.
"There is no legal precedent here at all," said Russell, who participated in the parties' commitment ceremony in 1998. "It is not the case that Lawrie Demorest is in any way trying to dilute [the relationship] or somehow say Obergefell doesn't apply to this case. We felt that for this short period between July 1996 to December 31, 1996 that intention [to be married] was not there."
Kyser said the legal battle that is approaching its second year is not simply so she can be treated fairly, but also to "give a road map" to LGBTQ partners in similar relationships.
"This will give a way for people who have long-standing relationships that they are dissolving to retroactively establish a marriage date that will help the partition of benefits and the protections that come with marriage," said Kyser, who urged the Human Rights Campaign to defend the spirit of marriage equality.
HRC representatives declined to comment for this article.