Pride 2016 was one of somber grief.
The June 12 massacre at the Pulse nightclub, in Orlando, Florida, had left 49 dead and another 53 wounded. To that point, it was the worst mass shooting on American soil.
A Latin night was underway at the gay nightclub, and for three hours — from the first shots at around 2 a.m. until three hours later, when SWAT teams successfully breached the building — the gunman conducted his reign of terror upon his victims. When Orlando Police killed him, he became the 50th death.
Were it not for a recently discharged former Marine working as a bouncer, dozens more would have died. He recognized the popping sounds as gunfire, and he unlatched a door that allowed about 70 people to escape.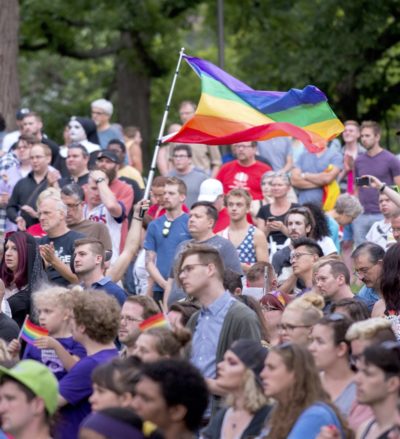 Spontaneous gatherings across the country mourned the victims, and that summer's Pride celebrations commemorated the loss and the senseless gun violence.
President Barack Obama spoke at an Orlando ceremony for the victims, and he and Vice President Joe Biden laid flowers at a memorial.
"Our hearts are broken, too," Obama said, "but we stand with you.
"As a nation, we've also been inspired by the courage of those who risked their lives and cared for others. Partners whose last moments were spent shielding each other. The mother who gave her life to save her son. The former Marine whose quick thinking saved dozens of lives."