A gay man who was eating pizza with his sister was brutally attacked by a stranger and left with possible brain damage.
Bradley Skinner was at a Domino's in a small town in Queensland, Australia.
"This guy walked past, and we were all laughing and having a good time about to go home," Bradley, 25, said.
Get the Daily Brief

The news you care about, reported on by the people who care about you:
Then a stranger walking by called him a "faggot."
Bradley ignored the comment, telling the Daily Mercury that he's "used to" being called slurs, but his sister Amanda stood up for him.
"He ended up hitting her in the face," Bradley said, "and it all went on from there and he got out this chain and started whacking me with it."
"He started pelting me with it over and over again. He hit me from my upper legs up to my head. I kept trying to grab it and cover my face while he was swinging it at me."
"When he hit me on the head, that's when I blacked out," Bradley said.
He said that he remembers vomiting, but nothing came out.
Bradley finally came to when paramedics shined a light into his eye.
"I couldn't open my eyes but I could hear everything that was going on."
But Amanda remembers what happened when her brother was unconscious. "He just kept hitting him until he was knocked out," Amanda said.
"I tried to rip him away from my brother but it didn't work. I thought he was dead, he was just laying there, there was blood coming out of his head."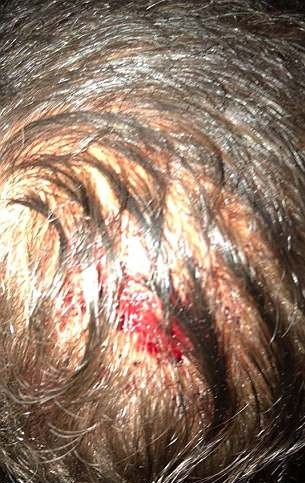 Bradley was taken to the hospital with a laceration on his head and bruises on his body. He was released the next day, but went back to the hospital when he couldn't keep his balance and had trouble speaking due to possible brain damage.
He has to take at least three weeks off of work.
Queensland Police confirmed that the incident occurred and statements were taken from both Bradley and the attacker. The attacker has not been arrested.
This is the third time Bradley has been gay-bashed.
"It makes me paranoid to go to work surrounded by men thinking they are all out to get me," Bradley told the Daily Mail. "Going out to have a good night, I'm always unsure what's around the corner."