Henri de Toulouse-Lautrec is a famous French post-impressionist painter who is best known for his paintings of sex workers in the late 1800's.
And several of those paintings involved intimacy between women.
While we'll never know how these women identified, his paintings provide a glimpse into the hidden life of women who worked in Parisian brothels in the 1880's and 1890's.
Toulouse-Lautrec was born visibly disabled to an aristocratic family and was separated from the upper-class life that his siblings led. His legs stopped growing when he was a child while his torso continued to grow, and his bones broke easily, keeping him away from popular, sporty pastimes of his era.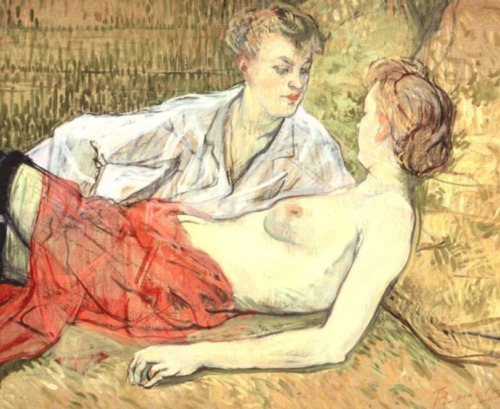 When he lived in the Montmartre neighborhood of Paris, he frequented brothels. He visited them so often that he became friends with the women who worked there and wanted to paint a side of them that people often did not see, like standing in line for a medical examination or drinking coffee while waiting for clients.
Toulouse-Lautrec was, by all indications, straight. It's possible that he paid these women to pose together because he was a straight dude who liked "girl-on-girl action," but the level of respect he has for the subjects of these paintings makes it seem like something deeper is happening.
Edouard Vuillard, a painter and a contemporary of Toulouse-Lautrec, said, "The real reasons for his behavior were moral ones… Lautrec was too proud to submit to his lot, as a physical freak, an aristocrat cut off from his kind by his grotesque appearance. He found an affinity between his own condition and the moral penury of the prostitute."
Related to that, he may have been rebelling against the bourgeois values of French high society in the late 19th century. Art historian Richard Thomson wrote:
Fascinated by lesbianism and other sexual peculiarities, Lautrec was consistent with the Decadent subculture in which he had been formed, for lesbianism played a major role in Decadent iconography from the writing of Verlaine and Catulle Mendès to the images of Rops and de Feure. But Decadence itself was formed by broad social and psychological patterns, standing in ironic opposition to the bourgeois values which cohered the Third Republic and France's intense nationalism.
While his art was generally appreciated in his time, his paintings depicting intimacy between women often weren't. An anonymous writer in the paper Le Journal called one of these paintings "The kiss of the devil" ("Le Baiser du diable").
He was also friends with Oscar Wilde, drawing him several times and painting the writer in 1895 the night before his trial for gross indecency.