The Great Gay Holiday, Halloween, is almost upon us and while many of us go all-out for the evening, others prefer a more casual, shall we say, understated look. (In other words, we're not a whiz with a glue gun and fabric.)
For those of us who want maximum queerness for minimal effort, these Halloween-themed t-shirts for the LGBTQ community are just the right fit. You can get them all on Amazon, and if you hurry they could arrive before the parties begin.
So without delay (and a little bit of commentary), here are 14 incredible queer Halloween-themed t-shirts you'll want to wear now.
1. Elegant and understated
When you feel the need to broadcast your love for the holiday and you're reason why, this one's for you.
2. Halloween costumes are a spectrum
Hey, men can be sexy cheerleaders too. Let your gender fluidity make its presence known like dear Aunt Mildred speaking up at a seance.
3. What's under the sheet?
To make the most of this one, we recommend buying it in an extra large and skipping pants altogether.
4. Straight pride
There's always that one guy. Be sure to wear it with cargo shorts.
5. The tell-tale heart
There's no need to bury your pride for the party. Forget pecs, the ribcage is where it's at with this rainbow heart skeleton.
6. What other kind of unicorn would you be?
Well, obviously you're lazy. You bought a t-shirt as a Halloween costume.
7. I want to suck your…
Blood. Suck your blood. Subtly show off your oral skills with this one.
8. There's nothing scary about being queer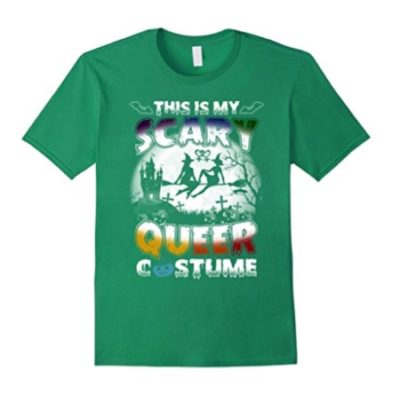 After all, tonight is the night to be queer. Be yourself and walk into any gas station in the midwest to watch straight people flee in terror from this scary queer tee.
9. Pumpkin patch pride
You'll smile and flirt all night long in this toothy queer jack-o-lantern tee.
10. This is a scary lesbian?
We're not sure what a strange rainbow colored creature vaguely similar to the poop emoji has to do with lesbians, but this shirt is such a wreck it could definitely be called "scary."