When Ann Coulter spent, according to her, $10,000 of her time deep-dive researching the seat she wanted on her Delta flight, she never expected she might face the horrors of a minor inconvenience.
Coulter specifically booked a seat with extra legroom, she said, and she didn't take too kindly to being moved.
So she took to Twitter, every entitled whiner's favorite weapon of choice, to not only bitch and moan about the whole situation but to also put staff and the woman moved to her former seat on blast by taking and posting their pictures.
Coulter was so bothered, she tweeted about Delta throughout the weekend. Here are but a sampling of those angry mini-missives:
Just when you think it's safe to fly them again, the worst airline in America is STILL: @Delta

— Ann Coulter (@AnnCoulter) July 15, 2017
Does your union hate you, @Delta? Not really worth spending all that money on planes when @Delta gate staff give your seat away.

— Ann Coulter (@AnnCoulter) July 15, 2017
"Why are you taking me out of the extra room seat I specifically booked, @Delta?' Flight attendant: "I don't know." pic.twitter.com/a0M1faZXMu

— Ann Coulter (@AnnCoulter) July 15, 2017
Hey @Delta, if it was so important for the dachshund-legged woman to take my seat, she should have BOOKED THE SEAT IN ADVANCE. Like I did.

— Ann Coulter (@AnnCoulter) July 16, 2017
Airline crew training at @Delta: Replicate Stanley Milgram's prison experiment at Yale, inducing normal ppl to brutally torture fellow man.

— Ann Coulter (@AnnCoulter) July 16, 2017
Just look at those, "Can you believe we have to put up with this woman's shit?" faces.
If you thought it was about $30, @Delta, why didn't you give this woman $30 and let me stay in my PRE-BOOKED, ASSIGNED seat? pic.twitter.com/sR1g8tuRWX

— Ann Coulter (@AnnCoulter) July 17, 2017
Delta tried being reasonable with the enraged Coulter, although it probably didn't calm the diva down any when they called her by the wrong name in their initial, now deleted, tweet.
Poor Anna.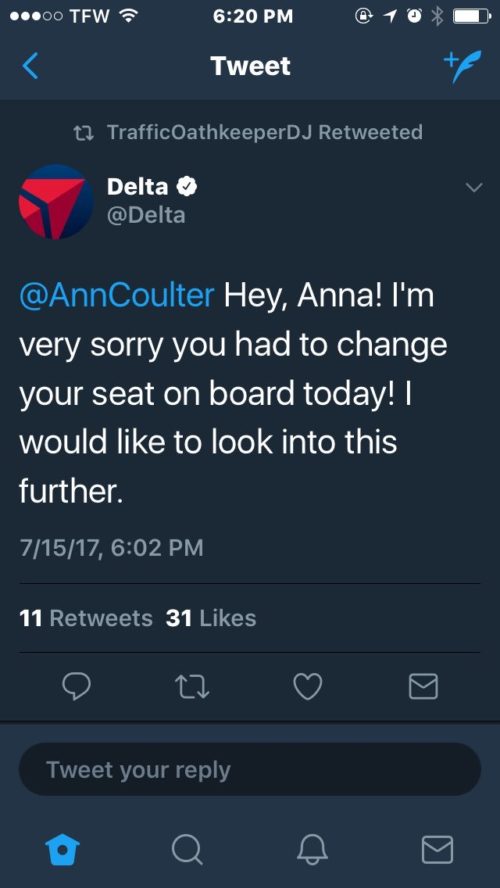 Twitter
Eventually they got her name right, and threw $30 her way, but then told her not to mistake that monetary offering as a sign that she was not still firmly in the wrong.
@AnnCoulter We're sorry you did not receive the preferred seat you paid for and will refund your $30. (cont.)

— Delta (@Delta) July 16, 2017
@AnnCoulter Additionally, your insults about our other customers and employees are unacceptable and unnecessary.

— Delta (@Delta) July 16, 2017
Naturally, Delta wasn't the only one teeing off on Coulter on Twitter. Live by the Twitter, get slain by the Twitter.
"Ann Coulter" #resist #resistance #TheResistance #indivisible #UniteBlue #GOP #DontheCon #MAGA #Trump #FoxNews #ResistTrump #ImpeachTrump pic.twitter.com/WaQQibNtDv

— Fredon Moniteau (@FMoniteau) July 16, 2017
The only good things airlines have done in 2017 pic.twitter.com/AU6mWvTH5v

— Parker Molloy (@ParkerMolloy) July 16, 2017
I much rather would have seen Anna Coulter getting dragged off the plane kicking and screaming. Anne, next time fly United ok?

— CAZWELL (@CAZWELLnyc) July 16, 2017
Anna  Anne, a suggestion: Next time save yourself the $10,000 of wasted time, and save everyone your histrionic wrath, and just book a first class seat.
You'll apparently save money on the deal, so it seems the easy choice.
That is, if you can stand giving up the chance to opportunity to play the victim.
This Story Filed Under