Japan hasn't passed marriage equality yet, but that didn't stop one lesbian couple from having the fairytale wedding of their dreams.
Haru and Ryo recently tied the knot after 13 years of love and Disney fandom in a ceremony at Tokyo DisneySea. Ryo told BuzzFeed News that she was initially hesitant to propose because her parents didn't know about the relationship and she was worried about how they might react.
"I was prepared to be disowned by my parents," Ryo said, "and if my parents were not attending, there was no point in having a ceremony."
Fortunately, her parents had done some traveling in more LGBTQ-friendly parts of the world, and coming out actually made them closer.
Ryo's dad even agreed to a father-daughter dance.
When he walked Ryo down the aisle, Haru couldn't help but cry.
"I did not have many chances to talk to my father to begin with," Ryo told BuzzFeed. "But after I came out and started planning the wedding, I was able to talk to him more."
The couple's engagement inspired a few other coming out moments. Because Japanese culture discourages taking time off from work without good reason, Haru decided to tell her employer that she was taking the time to get married.
"Normally, taking time off for your wedding would be celebrated by everyone, but instead, I was worried that people would think of me as someone who uses a lot of paid vacation time," Haru said. Still, "this was the first step toward living as a married couple in this society. We cannot advance to the next step without going through this one."
Again, they were pleasantly surprised by the reaction. Both women's employers sent celebratory messages to the couple. In the end, they still took vacation time instead of marriage leave to avoid coming out to senior management.
Even though their marriage won't be legally recognized, the couple said it was still meaningful to have a wedding ceremony.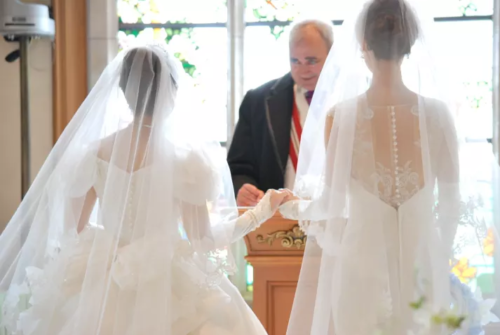 "Saying the vows in front of everyone and being treated as a married couple makes us one," Haru said.
While the nation as a whole has not passed marriage equality, same-sex marriages are recognized in Tokyo, where the LGBTQ community recently held a massive pride celebration.