Republican Rep. Rodney Frelinghuysen sent a letter to a progressive activist's employer, resulting in her getting in trouble with her boss and leading her to resign.
The New Jersey Congressman has been under criticism from constituents for avoiding town hall meetings, having last held one in 2013.
As WNYC reports, Saily Avelenda is a member of the group NJ 11th for Change, formed after Donald Trump was elected president. The group calls on Frelinghuysen to meet with constituents and to avoid the Trump agenda.
Thus far, the Republican has voted in line with Trump 100% of the time, according to FiveThirtyEight's tracking.
Frelinghuysen sent a fundraising letter in March to a board member, Joseph O'Dowd, of Lakeland Bank, where Avelenda served as senior vice president and assistant general counsel, with a special handwritten note.
The letter argues that Frelinghuysen needs funds two years ahead of his next election because there are "organized forces — both national and local — who are already hard at work to put a stop to an agenda of limited government, economic growth, stronger national security."
He drew an asterisk over this section of the letter, leading to a statement at the bottom: "P.S. One of the ringleaders works in your bank!"
The letter came attached to a newspaper article quoting Avelenda.
"Needless to say, that did cause some issues at work that were difficult to overcome," she said.
O'Dowd has given $700 to Frelinghuysen during previous election cycles, according to Federal Election Commission records, WNYC reports.
Avelenda was forced to write a statement to the company's CEO. She was not fired but decided to resign, in part because of the letter and the reaction to it from her bosses.
"I thought my Congressman put them in a situation, and put me in a really bad situation as the constituent, and used his name, used his position, and used his stationery to try to punish me," Avelenda added.
"It's certainly troubling," said Jordan Libowitz, spokesman for the non-partisan Citizens for Responsibility and Ethics in Washington (CREW). "Whether or not it breaks a criminal statute is one issue, but the very clear issue is that it appears that a member of Congress might be using his power to threaten someone's employment because of their political activities."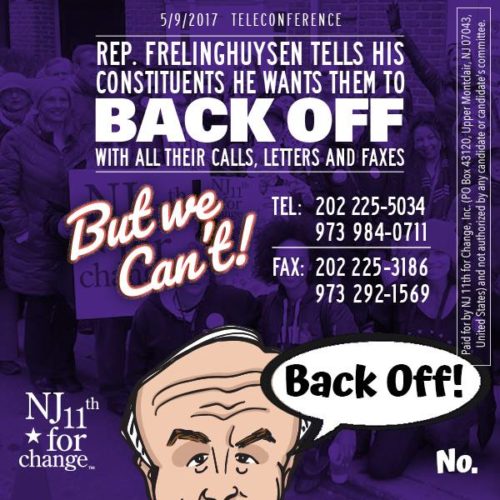 "The Congressman wrote a brief and innocuous note at the bottom of a personal letter in regard to information that had been reported in the media. He was in no way involved in any of the bank's business and is unaware of any of the particulars about this employee's status with the bank," said Frelinghuysen's campaign office.
NJ 11th for change put out a statement on Facebook, saying it was "outraged and alarmed" by the situation.
"Rep Frelinghuysen's actions are disturbing and alarming. He sent this letter with the clear intention of using his power and leverage as a Member of Congress to create a difficult situation for a concerned constituent. In that regard, he succeeded," it continues.
"How can democracy work if ordinary citizens are intimidated or their livelihoods threatened when speaking out?" it asks. "Frelinghuysen abused his position and acted against a concerned citizen for expressing a position he didn't like. But in that regard, he failed, because our voices will not be silenced by his intimidation tactics."
Read the full statement below.
As for how he feels about our community, Frelinghuysen was most recently rated a 48% by the Human Rights Campaign.
He voted against the Equality Act, against a student non-discrimination act, an anti-bullying safe schools initiative, and against legislation that would have prevented those who violate the human rights of LGBTQ people from entering the United States.
Frelinghuysen did, however, vote in favor of protections for the LGBTQ community against discrimination by federal contractors.